Instant Online Florida Driving Records
The state of Florida allows you to pull driving record information through DHSMV-authorized providers to get your results faster. Unlike other websites selling driving history not officially through the DMV, you can be assured you are receiving accurate information from the Florida Department of Highway and Safety Motor Vehicles with our records. Your driving record may include:
Moving Violations
Traffic Citations
Suspensions
Driving Restrictions
Traffic School Completions
Safe & Secure Information
To comply with State and Federal regulations and for your protection, personal information, such as your name, address and social security number, are not displayed on your record. Your Florida driver license number is included on the driving record to verify your information.
Florida DHSMV Authorized Provider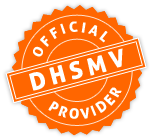 Your information is securely collected directly from the official Florida Department of Highway Safety and Motor Vehicles database. This database is also used by law enforcement, insurance companies, and employers to check your driver information.
What is in a Florida Driving Record?
A Florida driving record, also commonly referred to as a motor vehicle record (MVR), is a document that can be printed and provides details about a person's driving history, including various violations, suspensions, restrictions, or other information that may be included on the record.